Big Show Signs
• Overall: 45″ x 24″
• Two-Sided
• Sign Area: 24″ x 36″
• Stand Included
Note: Sand or water can be added for stability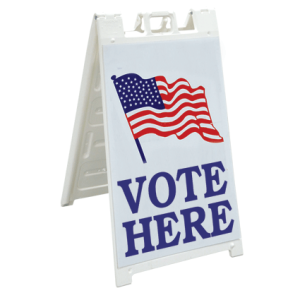 Product #0-100A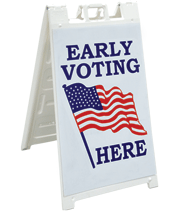 Product #0-100B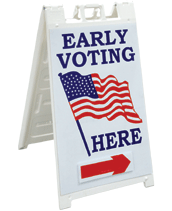 Product #0-100C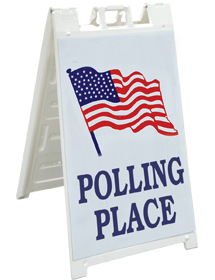 Product #0-100D
Product #0-100E
Interchangeable Election Day Signs
Our interchangable voting signs and stands are lightweight and compact (less than 2lbs.). These signs are made of rust-proof corrugated plastic. Signs have a large face – 22″ x 14″ and have a unique velcro attachment and removal system. All signs are of the highest quality and are all "silk screened". No decals or stick on lettering. Signs cannot "run" or wash off!!
• Lightweight, Compact
• Rain and Rust-proof Corrugated Plastic
• Large Sign Face 22″ x 14″
• Silk Screen Lettering and Artwork
Note: Stand is sold separately for each sign.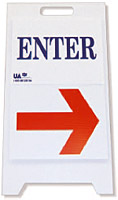 Enter (Arrow)
Order No. 0-32/Enter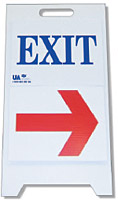 Exit (Arrow)
Order No. 0-31/Exit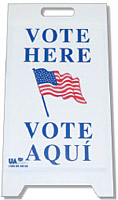 Vote Here(English/Spanish)
Order No. 0-36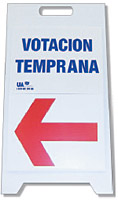 Votacion Temprana(Arrow)
Order No.
0-43/Votacion Temprana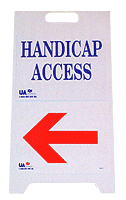 Handicap Access(Arrow)
Order No.
0-30/Handicap Access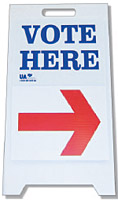 Vote Here (Arrow)
Order No. 0-41/Vote Here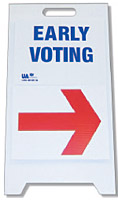 Early Voting (Arrow)
Order No. 0-42/Early Voting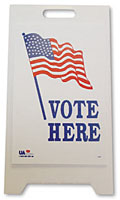 Vote Here (with Flag)
Order No. 0-25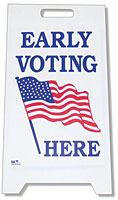 Early Voting Here (with Flag)
Order No. 0-39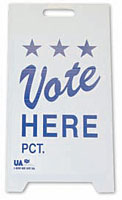 Vote Here PCT No. 2
Order No. 0-27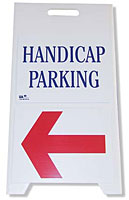 Handicap Parking (Left Arrow)
Order No. 0-48
Red Arrow (sold separately)
Order No. 0-23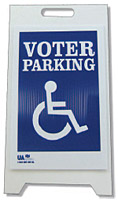 Voter Parking (Handicap)
Order No. 0-21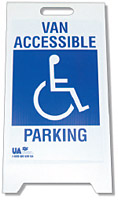 Van Accessible Parking(Handicap)
Order No. 0-38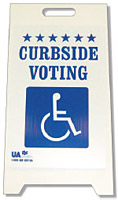 Curbside Voting(Handicap)
Order No. 0-40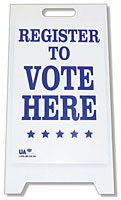 Register to Vote Here
Order No. 0-20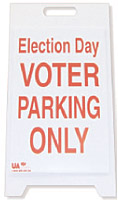 Election Day Parking Only
Order No. 0-29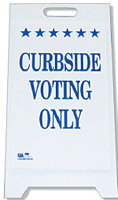 Curbside Voting Only
Order No. 0-34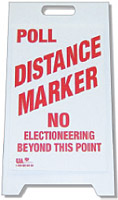 Poll Distance Marker
Order No. 0-28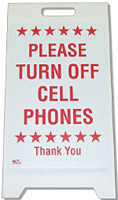 Turn Off Cell Phones
Order No. 0-44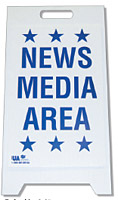 News Media Area
Order No. 0-45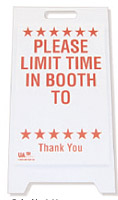 Limit Time in Booth
Order No. 0-46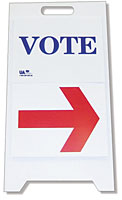 Vote Right Arrow
Order No. 0-23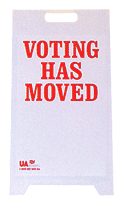 Voting Has Moved
Order No. 0-33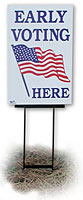 Metal Sign Stand
Order No. 0-52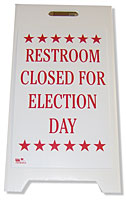 Restroom Closed
Order No. 0-47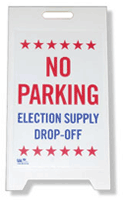 No Parking Election Supply
Order No. 0-50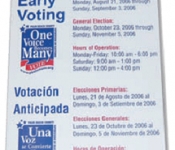 Bilingual Customizable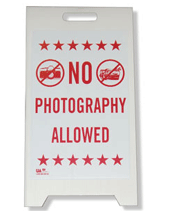 Product #0-49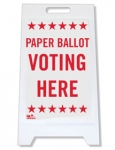 Product #0-53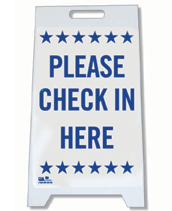 Product #0-54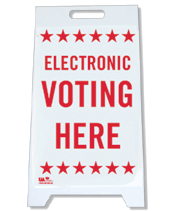 Product #0-55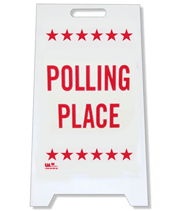 Product #0-56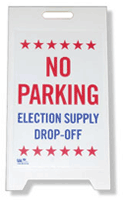 County Customizable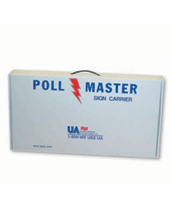 Sign Carrier With Handle
Product #0-24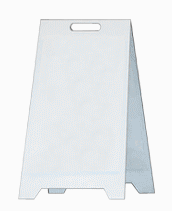 Voting Sign Stand
Product #0-26 (1 side velcro)
Product #0-26 (2 side velcro)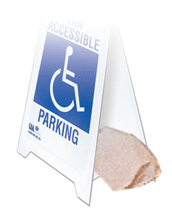 Ballast Bag
Product #0-35