We Are United American Election Supply Co.
United American Election Supply Company, is pleased, to present our new website.
We hope "you too" are pleased when you see our wonderful, "made in America" election equipment and supplies. Whether, it is a single POLLMASTER™ I voting booth that we shipped to a township in Michigan, or 10,000 booths we shipped to the state of Connecticut, we appreciate your business… small or large!
You will note that we do not post our prices online, as we often offer discounts, specials, and FREE SHIPPING! We do not want you to miss out on these offers!
United American Election Supply Company has been a family owned business for over 25 years servicing counties, provinces, cities and towns across the United States and Canada.
We would love to have you as our customer! And we hope to hear from you soon.
 – Ed & Sandra O'Day
Learn About Our Made in America Products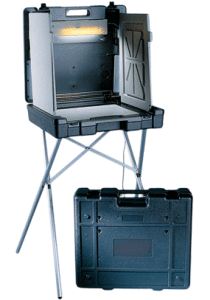 POLLMASTER™ I
Designed to look good for years! High impact, heavy-duty plastic case, U.L. approved, fluorescent light, aluminum legs with stabilizer bars.
Unit is completely self-contained with molded stacking "buttons" for easy storage. The booths can be stored in our new PollCat™ Storage Carts.
Handicapped version available.
10-year warranty*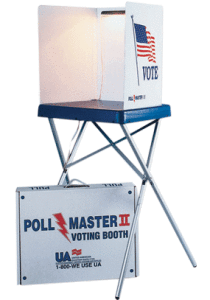 POLLMASTER™ II
At last… an affordable voting booth, with features found in more expensive booths: Lightweight, portable, "No wobble" aluminum legs. Writing shelf made of rugged ABS.
All parts fit neatly in weather proof
storage case and weighs only 12 pounds.
Handicapped version available.
5-year warranty*
10,000 POLLMASTER™ I Voting Booths
Largest Installation in The State of Connecticut